The Aggregated sea ice concentration (SIC) parameter is the fraction of sea surface cover by sea ice.

Different sensors and methods can be used to map this fraction but due to climate in the Arctic (dark in winter, cloudy most of the year) microwave sensors are used in preference to optical sensors.

In this version of EuroClim SSM/I passive microwave data are used. SSM/I is a 7-channel multi-frequency, dual-polarity sensor. Channels at 19, 37 and 85 GHz have vertical (V) and horizontal (H) polarities. A single channel at 22 GHz has just the vertical polarity.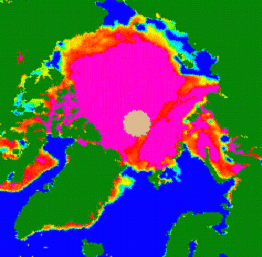 Aggregated sea ice concentration (SIC) maps, Arctic Ocean
Data is taken from NSIDC in the form of daily brightness temperature values for the current SSM/I satellite. The data are normally available two days after acquisition but this has been observed to slacken in summer months as the passive microwave data are then less reliable, resulting in less pressure on speedy delivery.
The geographical area cover is the whole Arctic Ocean.

The SIC algorithm for mapping sea ice cover from SSM/I is derived from the Comiso Bootstrap approach. This is based on the 19V and 37V channels and has been shown to work all year with the exception that in summer, melting effects can reduce the seen ice concentration and give false results.
Example of a sea ice concentration map product from the summer of 2002.